Assalamualaikum,
Subhanallah
Allahukahbar
Lailahaillallah
Alhamdulillah
Segala puji bagi Allah swt Tuhan semesta Alam :)
Just nak update sikit tentang gambar dan video di internet yang mengatakan Mesir dilanda salji. Tanx to google dan semua bloggers yang update tentang berita ni. Actually yang banyak gambar salji adalah sekitar Cairo , Jordan, Israel. Mungkin banyak lagi gambar yang belum kita dapat tengok di seluruh daerah Mesir ni.
Anyway, Saya just nak ad up sikit since takde yang siarkan video tentang Salji ni...Video turun salji ni di sekitar Jaruslaem, Israel.
snow in egypt ! EGYPT MAP
Peta mesir.
Video Salji Turun di Mesir Disember 2013
jarusalem , israel
jarusalem, israel
yang gambar kat jordan, adik kawan saya belajar kat sana.
Gambar gambar google :) Mesir turun salji.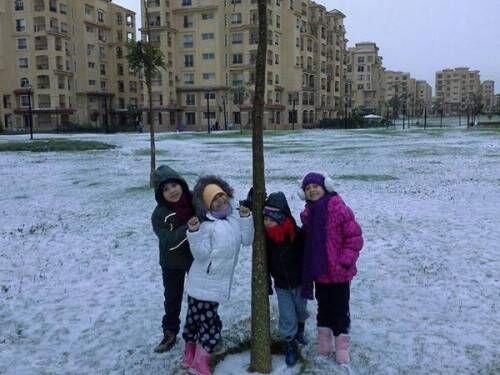 Gambar salji turun di sekitar Rehab City di Tajammo' Khamis Kaherah
Gambar salji turun di sekitar Rehab City di Tajammo' Khamis Kaherah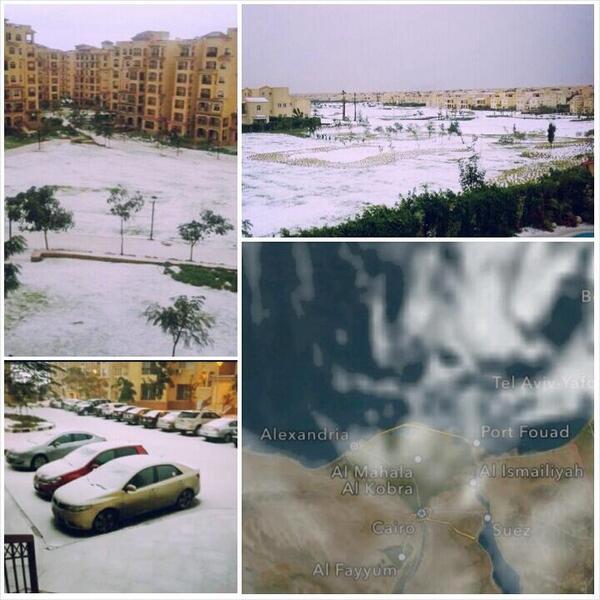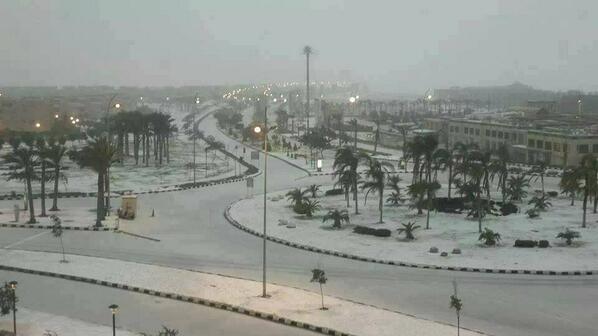 Video Mesir Turun Salji
Sumber berita ;
Historic snow fall turns Holy Land into the scenes we see in Christmas cards with first flakes for 100 years
Snow falls across much of the Middle East as worst blizzard in 60 years hits the region

Police block roads into and out of ancient holy city

Snowstorm Alexa brings Egypt's main Mediterranean ports to a standstill

Temperatures plummet below freezing across Syria, Egypt, Israel, Lebanon

Concern mounts for plight of two million refugees fleeing Syrian civil war
|




It's a festive scene that's adorned countless

Christmas cards

... and, for once, the Holy Land actually became a snow covered winter scene.




The ancient city of Jerusalem, which normally basks in fierce heat, was dusted with a light covering of snow during a freak blizzard.




And snow fell on the streets of Egypt for the first time in 112 years as one of the worst winter storms to hit the

Middle East

in living memory set in.




The rare sight of pristine white precipitation greeted stunned residents of Cairo this morning who took to

social media

to express their shock at the unsettling weather in the usually sweltering capital.



Icy blast: The Western Wall compound in the
Old City
of Jerusalem, Israel, today was covered with snow as temperatures plunge below zero
Frozen: Palestinian worshipers walk near the Dome of the Rock at the Al-Aqsa mosque compound in the Old City of Jerusalem following a snowstorm
Festive: Jerusalem's Old City following a snowstorm, seen from the Mount of Olives, today
The blizzard, which has been named Alexa, forced Jerusalem into lockdown today after more than 50cm of snow was dumped on the region.
The unusual weather system brought travel chaos and disruption to much of the region.
People had to abandon their cars and seek

emergency shelter
as the snowstorm brought transport to a standstill.
Police set up roadblocks on routes in and out of the ancient city.
Ben Gurion airport near

Tel Aviv

was shut earlier this morning and Egypt's main ports on the Mediterranean and the Red Sea remained closed for the third straight day due to bad weather.
Israelis were told over media and public broadcasts today not to enter or leave Jerusalem and some 1,500 people were evacuated from stranded vehicles overnight, said police spokesman Micky Rosenfeld.
Three emergency centers were set up and medics treated 350 people for cold-related symptoms, Rosenfeld said. Jerusalem Mayor Nir Barkat said he asked the military for assistance.
Devotion: Amid the snow and icy temperatures, a Palestinian worshipper gets ready to pray in front of the Dome of the Rock in the compound known to Muslims as Noble Sanctuary and to Jews as Temple Mount, in Jerusalem's Old City
Snow fun: Young Palestinians throw snowballs at the Jaffa Gate at the Old City of Jerusalem, after the worst blizzards in 60 years swept across the region
Cold blast: A Palestinian man rides his horse in the snow after heavy storms continued throughout Israel on Friday, causing traffic disruptions and power outages across the country
Playtime: A Palestinian child plays in the snow brought by the unusually severe blizzard, dubbed Alexa
Rare snow also fell in Cairo's suburbs, the port city of Alexandria and a blanket of white covered St. Catherine's Monastery on Mt. Sinai.
The cold weather was part of a storm, dubbed Alexa, which has been pounding much of Lebanon and parts of northern Syria since Wednesday, pushing temperatures below zero and dumping snow and heavy rains.
The snow has heaped another layer of misery on the already grim existence of many of the more than two million Syrians who have fled the civil war raging in their homeland.
Shock: Stunned Egyptians woke up this morning to find snow on the streets for the first time in more than a century these pictures show Madinaty, 40kms east of Cairo
Chaotic: Vehicles are seen stranded in snow in Jerusalem after transport links ground to a halt due to heavy snow
Worship: An Ultra-Orthodox Jew prays at the the snow-covered compound of the Western Wall in the Old City of Jerusalem today
The weather even featured in talks between visiting U.S. Secretary of State John Kerry and Prime Minister Benjamin Netanyahu, who said he was briefed on the emergency measures.
Kerry, a former Massachusetts senator, said the snow made him feel 'at home'.
'I have heard of making guests welcome and feeling at home. This is about as far as I've ever seen anything go... giving me a New England snowstorm,' Kerry said as he viewed a snow-covered Old City of Jerusalem with Netanyahu.
Cold comfort: A woman swims in the pool at the David Citadel Hotel during a snow storm in Jerusalem today
Beast of burden: Ice covered stray donkeys stand outside in cold weather in Karlik village of Karacadag region located in Siverek district of Turkey's Sanliurfa province in Southeastern Anatolia region
In the West Bank and Gaza, U.N. relief teams offered emergency services to the worst-hit communities.
In Gaza, which was experiencing its first snow in a decade, more than 500 people were evacuated from their homes, according to Hamas spokesman Ihab Ghussein.
Egypt's state MENA news agency said the country's two

Mediterranean ports

near the city of Alexandria and two ports on the

Red Sea

remained closed for the third day Friday.
The report quoted the head of the Alexandria port authority, Adel Yassin Hammad, as saying the decision was taken to avoid possible accidents in the ports.
Egyptian young people build what could quite possibly be their first ever snowman in Cairo
Worship: The se
Rare Snowfall Hits Northern Egypt, Cairo Area (PHOTOS)
Published: Dec 13, 2013, 2:47 PM EST weather.com



The photos below gathered from Twitter show the snow in northern Egypt, including some from near the

Cairo

area.

Given its desert climate, precipitation of any kind is a rarity in

Cairo

. The city averages less than an inch of rain each year.
Pertama Kali dalam Seabad, Salji Turun di Kairo
Sabtu, 14 Desember 2013 | 04:28 WIB
huffingtonpost.com/bb



Metrotvnews.com, Kairo:
Hawa dingin dalam sekejap menyebar di Mesir pada Jumat (13/12). Malah, salju terlihat untuk pertama kalinya di pinggiran Kairo, setelah 112 tahun menghilang dari ibu kota negara di Afrika bagian utara tersebut. Begitu tutur seorang pejabat di badan meteorologi Kairo.

Timur Tengah telah terpukul badai musim dingin dahsyat. Suhu di Mesir turun tajam selama dua hari terakhir. Hujan deras juga mengancam bagian negara itu.




"Ini adalah pertama kalinya setelah bertahun-tahun," kata pejabat di pusat meteorologi Kairo, Ali Abdelazim seperti dikutip AFP.




Seorang narasumber

AFP

, Karim Kheirat, menjelaskan seluruh taman di kota baru, Medinati (timur laut Kairo) menjadi putih. "Ini pertama kalinya dalam hidup saya melihat seperti ini," kata dia saat dihubungi

via

telepon.




Penduduk di pinggiran ibukota lainnya juga melihat hujan salju ringan. Semenanjung

Sinai

, badai membuat timbunan salju setebal lebih dari satu centimeter di daerah pegunungan sekitar Biara

Saint Catherine

untuk pertama kalinya dalam beberapa dekade.




Mokhtar Hussein yang tinggal di daerah itu mengatakan tidak dapat meninggalkan rumah sejak Kamis karena cuaca buruk. "Kami tidak meninggalkan rumah sama sekali karena seluruh kota tertutup salju," jelasnya.




Demikian pula di Pantai Mediterania, kebun-kebun, jalan dan rumah di Kota

Ras

Al-Bar. Semuanya tertutup oleh lapisan putih tebal.




Sementara, kota di pantai utara

Alexandria

hanya menerima hujan salju ringan. Tetapi pemerintah setempat menutup pelabuhan pada hari ketiga karena cuaca buruk dan angin kencang. (Yahoo/AFP)



Gara-gara Salju Tebal, Jordan Airline Batalkan Penerbangan
Sabtu, 14 Desember 2013 | 08:15 WIB
REUTERS/Stefan Wermuth/bb
Metrotvnews.com, Amman:
Perusahaan penerbangan Jordan,
Royal Jordanian
(RJ), membatalkan enam penerbangannya pada Jumat (13/12). Airline itu juga terpaksa menunda lima lainnya akibat salju tebal menghalangi jalan raya utama menuju Queen Alia International Airport di Amman.
RJ membatalkan dan menunda penerbangan pesawat, sebab penumpang dan awak penerbangan tak bisa sampai ke bandara tepat waktu. Mereka terlambat karena salju tebal menghalangi jalan utama yang menghubungkan beberapa bagian Jordan dengan bandara tersebut.
Asisten Pelaksana Direktur Jenderal Royal
Jordanian
Urusan Media dan Komunikasi, Basel Kilani, merinci penerbangan yang dibatalkan antara lain dengan tujuan ke Jeddah,
Arab Saudi
; Beirut, Lebanon; Erbil dan Sulaimaniyah di Irak; Kairo, Mesir; dan
Tel Aviv
di Israel.
Warga yang tinggal dekat jalan menuju bandara mengatakan ribuan
mobil
terjebak salju tebal. Jalan raya utama dan jalan arteri di Amman benar-benar terhalang salju, kata polisi dalam pernyataan yang dikeluarkan Jumat (13/12) malam. (Antara/Xinhua)
Ok sampai sini sahaja berita terkini ,
Much love, Neo. :)